Iowa City is rich with literary history, notably due to the presence of the University of Iowa Writers' Workshop, established in 1936 as the first creative writing degree program in the United States. Writers who have completed the program include seventeen winners of the Pulitzer Prize, six recent U.S. Poets Laureate, and numerous winners of the National Book Award and MacArthur Foundation Fellowships. Many notable writers have lived in Iowa City over the years, making the city a unique place for those who enjoy literature to visit.
Not sure where to start to explore this rich history? Venture on this 1-mile self-guided walking tour to see notable highlights.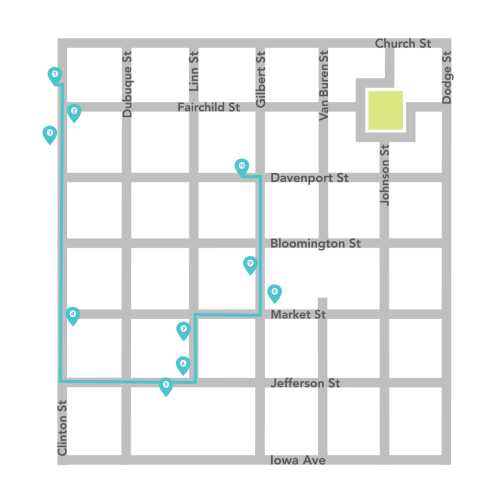 1. Dey House (507 N Clinton St): Home of the Iowa Writer's Workshop, this is also home of the Glenn Schaeffer Library and Archives. Students often work and gather informally in the Reading Room, and Workshop-sponsored readings and events are also frequently held here.
2. Shambaugh House (430 N Clinton St):  The International Writing Program (IWP) is a unique conduit for the world's literatures, connecting well-established writers from around the globe and introducing American writers to other cultures through reading tours. The program's fall residency is designed for established and emerging creative writers — poets, dramatists and both fiction non-fiction writers. The program has welcomed and helped develop writers from more than 150 countries since 1967.
3. Currier Hall (413 N Clinton St): This residence hall was formerly named the Currier House, a dorm for women, and is where Flannery O'Connor lived during her graduate years. Mildred Wirt Benson also stayed in this building while she lived in Iowa City.
4. North Clinton Boarding House (126 N Clinton St): This was the former location of a boarding house near the dorms and Northside neighborhood where Tennessee Williams lived during his time as a student.
5. Van Allen Hall (30 N Dubuque St): Van Allen Hall was home to many readings and events for writers including Carolyn Kizer Louise Glück. One event featuring John Irving was forced to move from to the Pappajohn Business Building just before its start time due to the overflow crowd, causing a potential fire hazard. The building currently houses physics and astronomy faculty with an observatory visible above the roofline.
6. St. Mary's Church (228 E Jefferson St): Flannery O'Connor found her home away from home at St. Mary's church.
7. Literary Walk (Linn St): You'll find a number of bronze book sculptures that reference various writers along Linn Street. An extension of this walk lies on Iowa Avenue, featuring bronze panels in the sidewalk.
8. Foxhead Tavern (402 E Market St): This local tavern has been the "Workshop bar" since the 1980s and is mentioned by Frank Conroy in his writing. It has an unassuming exterior and an interior that has remained unchanged since the 1970s. Its simplicity might just be why folks enjoy it so much.
9. Haunted Bookshop (219 N Gilbert St): The Haunted Bookshop, Iowa City's oldest secondhand bookshop, carries over 50,000 used, rare, and out of print titles in over 50 different subject areas, specializing in poetry, literature, and Iowa-related books.
10. Iowa Writer's House (332 E Davenport St): The Emma J. Harvat and Mary E. Stach House was the home of Emma J. Harvat, who was the first female mayor of Iowa City and the first female leader of a U.S. city with a population greater than 10,000. Here, the Iowa Writer's House offers workshops and programming for writers, created as a dedicated place to nurture the local writing community.
To create your own tour and for more information on writers and their connections to local places, visit LitCity online.